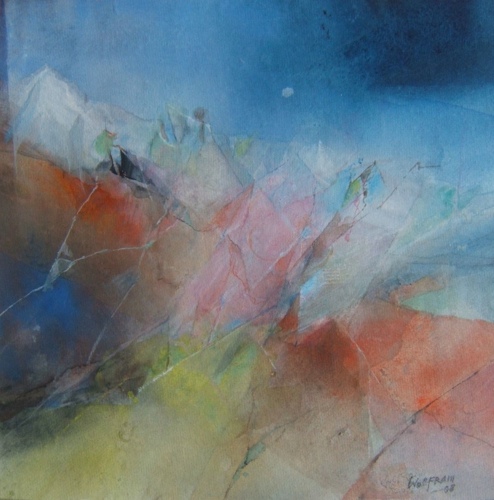 The artist WOLFRAM (Wolfram Aichele) was born in 1924 in the German town of Freiburg im Breisgau: he has been living in France since 1956.
He works primarily in watercolour and has developed a highly personal style that sits on the boundary between abstract and figurative art.

The subtle interplay of overlapping layers of colour in his work allow for the creation of forms and spaces, in which familiar elements of landscape can often be recognised.

These figurate elements provide the key to unlocking the abstract. Around them, the observer finds himself reconstructing and recognising three-dimensional spaces. The tensions in the composition will suddenly reveal a landscape with its horizons and points of light.
Alongside his watercolours, Wolfram has also created collages from paper that he has painted and then torn. These collages have a tactile quality that is enhanced by the intensity of the colour.

Since the end of the 1960s, numerous international exhibitions brought his name and work to a wider public.

WOLFRAM died on 9 June 2016 at Fontenay-sous-Bois, near Paris.