Wolfram Aichele is the son of the artist
Erwin Aichele
and Marie-Charlotte, born Boedicker.
Wolfram was born near Freibourg in the house of his grandparents, where - up to the age of ten - he spent all his holidays.
The beauty of the landscape, the view of the mountains, the rural life and the festive processions in Freiburg cathedral all left powerful impressions on the little boy.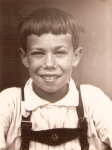 Wolfram and his two siblings grew up in Pforzheim, where his father was an art teacher at the jewellery school.
Erwin Aichele was also a famous animal artist and the land on which their property was built was full of animals.
Erwin was particularly fond of birds of prey.