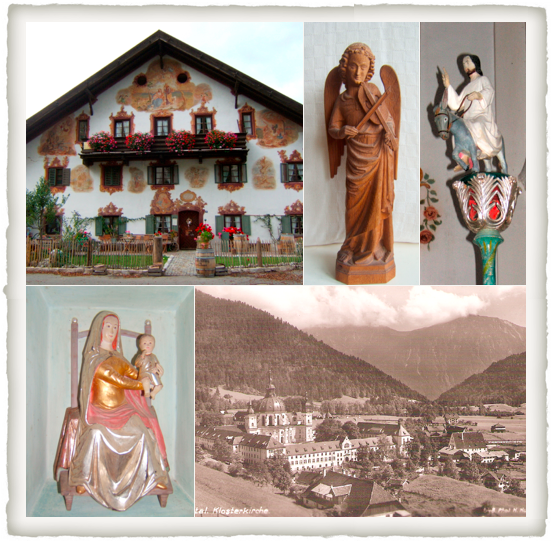 To view photos, click on the above image.
Click on the right side of an image to go to the next one
and on the left side to return to the previous one.
Study years - Oberammergau

Soon after his return to Germany, Wolfram picked up his studies in Oberammergau.
He found the village much as he left it, but numerous teachers and students bore the scars of war and had lost limbs. The main goal of the school was to transmit wood carving skills for religious sculpture, but there was a healthy balance between teaching traditional skills and the encounter with modernity – which the new, post-war generation of students were only able to discover once the Nazi era was over.
The "blue cavalier" art group had been born in this area of Upper Bavaria. A popular theme for both students and teachers at this time was to try to work out which religious art was appropriate in the modern day and age.
The work of the students consisted primarily of copying Old Masters, but also of creating their own pieces of art with themes that were laid down in competitions.
Wolfram was in his element and his work was very much appreciated. He enjoyed once again his hikes into the mountains. The visual impressions which he collected on these mountain walks were to resurface in his water colours. Music, too, which he heard in the famous Ettal Monastery, was to play an ever-increasing role in his art in years to come.
---