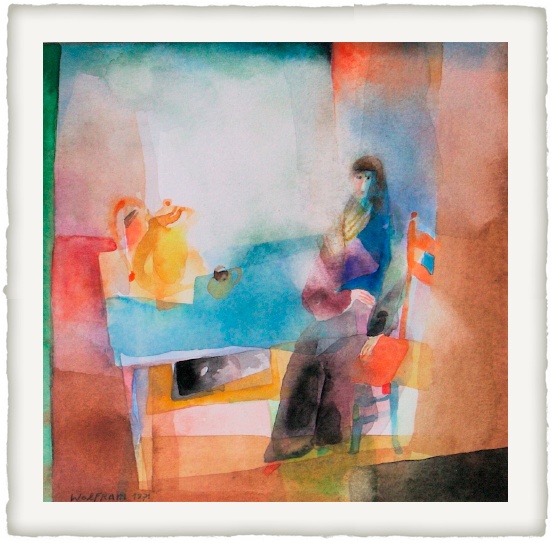 To view photos, click on the above image.
Click on the right side of an image to go to the next one
and on the left side to return to the previous one.
Watercolor

Wolfram found that watercolour was his preferred medium and developed his own, unmistakable style.
His interest in the works of Klee, Feininger, Macke and Delaunay - as well as in Cubism - contributed to that development.
The great variety of the Parisian artistic world - and the light of the "Ile de France" - also fascinated him.
In his paintings, he created irrational spaces of light and colour by the juxtaposing and overlapping coloured surfaces.
At the beginning of the sixties and seventies, objects had an importance in their own right. But as he moved towards abstraction, they became more and more like keys that would enable the spectator to understand the space.
Many of his experiences and memories of landscapes were to become integral parts of the paintings. Travels to the Alps, to south Tyrol and to Ireland also brought new impressions to Wolfram.
In 1964, Wolfram married the sculpture student Barbara Rodi. He drew inspiration from the trips and family holidays they undertook once they had their two children.
At the end of the 1970s, they moved to the edge of the Bois de Vincennes, in Paris, where they continue to live to this day.
Wolfram exhibited in various countries and cities from the beginning of the 1960s onwards, including Germany, Paris and New York.
In 1971, Wolfram started working with the gallery owner Jean-Louis Roque, who became his exhibitor in Paris, Switzerland, Belgium and Luxembourg. In 1977, a monograph about Wolfram was published, with a text by Frank Elgar.
---