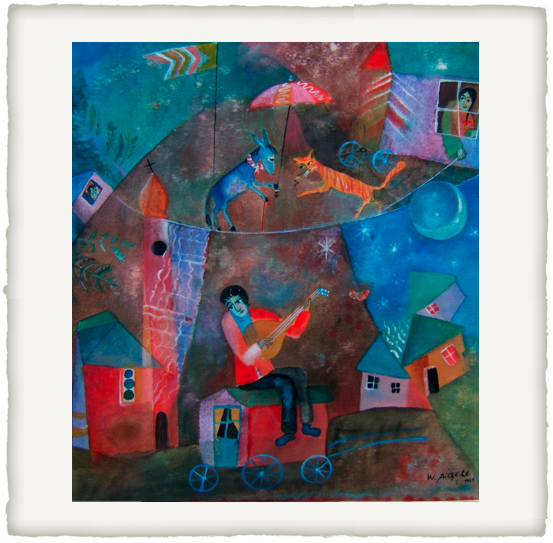 To view photos, click on the above image.
Click on the right side of an image to go to the next one
and on the left side to return to the previous one.
Beginning in Paris

In 1956, Wolfram moved to Paris. He had already visited the city a number of times and had a few friendly contacts there. He increasingly found that he needed the stimulus of the city: the pluralism of Paris was particularly liberating.
He gradually became surrounded by a lively and international group of friends – many of whom had emigrated from Russia. Wolfram continued to paint icons, including an iconostasis for an Orthodox church in Düsseldorf.
During this time, he felt a growing need to express himself more personally. He started painting more freely, using the icon painting technique on wood, and then using tempera on paper.
His images were full of fantasy: very colourful, narrative and irrational. He drew his inspiration from folk art (Exvotos and paintings behind glass of saints), Persian miniatures and art he had seen during his trip through the Balkans, as well as the very colourful Parisian street scenes.
He was also influenced by Chagall - both in terms of composition as well as in the colours.
During this period, Wolfram was particularly interested in Jewish culture and had encounters that were no longer possible in Germany. The ideas of Martin Buber became very important to him.
He had his first solo exhibition in a gallery in Düsseldorf.
---